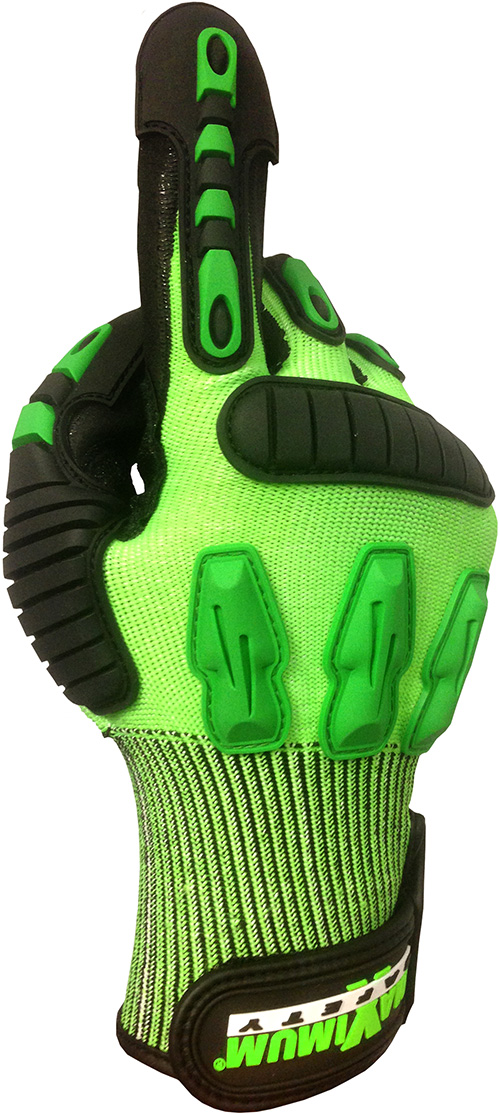 Global Leader
in Hand Protection
Protective Industrial Products is a global leader in hand protection. As a licensee of both Dyneema® and DuPont® advanced fibers, our gloves and sleeves are made using proprietary engineered yarn blends and coatings. The result - hand and arm protection that is innovative and performance driven. Meeting todays tough ANSI and EN standards, we develop and market seamless knit, coated and uncoated, polymer, supported and unsupported as well as cut and sewn gloves in both leather and advanced composite materials.
Brands You Can Trust
We offer G-Tek®, Assurance®, and Maximum Safety®, to name just a few. We are solidly partnered with ATG®, global technology leader in intelligent glove solutions and NOVAX®, leaders in electrical safety. Our combined manufacturing technologies and spec-driven sourced manufacturing allow us to provide the most comprehensive line of seamless knit, cut and sewn, cut resistant and general protection gloves and sleeves in the industry.

Glove Technologies
All gloves have value based on application, length of use and risk. Thats why selecting the right glove is not as simple as one may think. There are many factors that go into determining the correct product.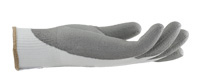 COATED SEAMLESS KNIT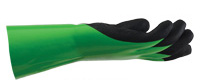 POLYMER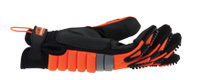 CUT AND SEWN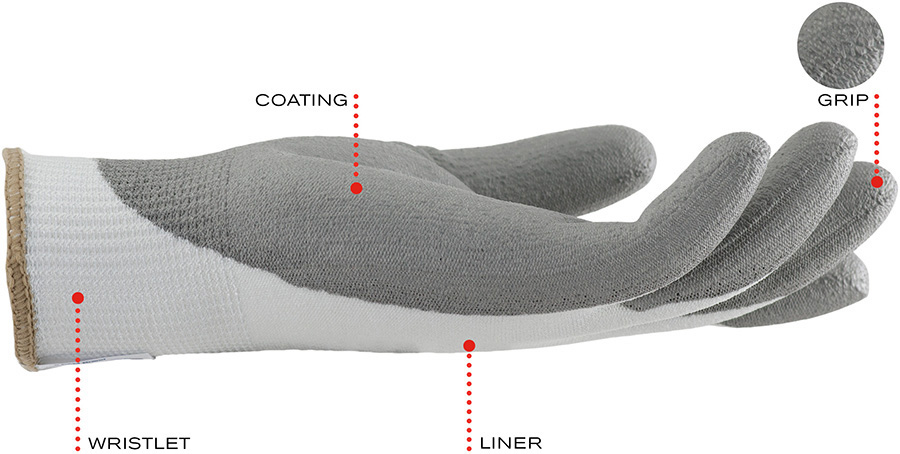 COATED SEAMLESS KNIT TECHNOLOGY work gloves are built for superior dexterity, grip and tactile sensitivity.
DESIGN FACTORS:
Supported by a liner • Wristlet length and shape • Gauge of knit (weight) • Coating variants - coverage typically ranges from palm & fingers to palm, fingers & knuckles to full hand • Coating textured for enhanced grip

Fiber Basics
Fibers are extruded either in very long, continuous form, called filament or in shorter lengths described as short or long Staple fibers. Filaments are aligned, bundled and twisted to form and filament yarns, while Staple fibers are high-speed twisted to form spun yarns of varying diameters.
STAPLE
Short staple fibers are twisted together to form yarns of differing thickness offer loftier feel for better comfort and wicking properties.
FILAMENT
Continuous length fibers twisted to form filament yarns that offer higher tenacity.
GAUGE
The number of rows of stitches per inch. A higher gauge means less bulk and greater dexterity.

Liner Basics
Advanced polymer fibers are the backbone of high-tech gloves. Used principally as support for gloves and arm sleeves, these fibers can be transformed in to various types and forms.
DYNEEMA® DIAMOND®
Ultra High Molecular Weight Polyethylene

With Dyneema® Diamond Technology cut resistance can be doubled compared to Dyneema® Continuous Filament Technology. The unmatched comfort level provides a cool, non-irritating sensation and feels like you are not even wearing gloves. But, the best feature of all, is the cost-effective and unmatched durability that stands up to laundering for long lasting value.

DYNEEMA®
Ultra High Molecular Weight Polyethylene

Dyneema® is 15 times stronger than steel on a weight for weight basis! It's a High Performance Polyethylene (HPPE) fiber made from Ultra-High Molecular Weight Polyethylene (UHMWPE). Dyneema® fiber is much thinner and more flexible than traditional materials, such as leather and cotton, while offering higher protection.

HPPE
High-Performance Polyethylene

Products constructed with HPPE fibers are suitable for protection against mechanical hazards in the toughest environments. HPPE fiber products can be designed for different protection levels, up to the highest levels, while maintaining an unprecedented level of comfort. They are also highly resistant to abrasion and chemicals, so you can rely on them to provide long-lasting protection.

DUPONT® KEVLAR®
Aramid

Kevlar® is light, comfortable and enduring protection against heat, cuts, lacerations and abrasions. Protective gloves and sleeves bearing this brand name provide assurance of compliance to strict performance and quality standards, and are produced only by Kevlar® licensed manufacturers.

ACP TECHNOLOGY
Aramid

Proprietary ACP Technology raises the standards for performance knit products offering an increase in overall performance and value compared to traditional Para-Aramid products. ACP provides excellent abrasion and cut resistance for lower cost per use. ACP Technology gloves and sleeves are 100% silicone free.

BLENDED YARNS
Nylon / Polyester / Cotton / Acrylic

Because of technological advancements, the range of gloves on the market today are geared toward task-specific applications — meaning there is a "right" glove for every worker performing a specific task. Today's consumer wants a glove that offers not only safety, but enhanced dexterity, longevity, comfort and grip.

Material Basics
Materials play a key role in the glove selection process. It is important to understand every facet of the glove materials and design to maximize protection, dexterity and comfort.
SYNTHETIC LEATHER
Includes materials made from high-tensile resins applied to fabric as well as microfiber fabrics that are similar to natural leather. Soft, durable and tear resistant with high tensile strength.

NATURAL LEATHER
Leather can be separated into the upper top grain of highest quality and the bottom split layer, which is thinner and more pliable than top grain.

FABRIC
Numerous fabrics—synthetic or natural—are used to produce a multitude of gloves. Thermal layering can provide additional protection from cold or heat. The addition of Spandex allows for enhanced flexibility.

Coating Basics
Coatings are used to enhance the glove's grip and improve resistance to snags, abrasion, punctures, tears and offer liquid or contamination protection.
NITRILE
Excellent dry grip, thicker coating offers superior resistance to snag, cut, puncture and abrasion. When enhanced by a foam coating, it offers very good grip in chemicals including oils, petrochemicals, fuels and most acids.

LATEX
Offers good dry and wet (aqueous-based liquids, animal fats, caustics, acids and alcohols) grip as well as resistance to snag, cut, puncture and abrasion.

NEOPRENE
Offers good dry and wet (heavy oils, acids, caustics, grease and solvents) grip as well as excellent resistance to snag, cut, puncture and abrasion.

POLYURETHANE (PU)
Offers good abrasion resistance and dry grip, and fair grip in slightly wet conditions. PU properties allow for a very thin coating, which results in excellent tactility and dexterity.

POLYVINYL CHLORIDE (PVC)
Durable resistance and barrier protection against petrochemicals, oils and grease. While it is flexible, PVC does not provide the tactile sensitivity associated with most rubber products.

Grip Basics
Coatings are used to enhance the glove's grip and improve resistance to snags, abrasion, punctures, tears and offer liquid or contamination protection.
SMOOTH
Available in a variety of polymers such as latex, nitrile, PVC, Neoprene and Polyurethane. Smooth coatings provide the wearer an excellent dry grip. Liquids will not absorb into the coating which will keep the hands dry.

MICROFINISH / MICROSURFACE
Created by using a soft and flexible compound such as latex or nitrile filled with thousands of tiny suction cups. As these suction cups come into contact with a surface, they create a vacuum that disperses fluids away from the object to allow clean contact with the object. Works well in handling wet and dirty applications.

FOAM / MICROFOAM
Available in Nitrile, Latex and PVC, the coating is designed to channel away liquids to allow better handling in wet and dirty conditions. Also provides excellent grip and tactile sensitivity in dry applications.

PATTERN
Patterns such as dots, blocks and palm coatings in a variety of polymers provide an enhanced grip, performance and durability. String knit/ambidextrous gloves can have a pattern screened on both sides to extend the life of the glove.

CRINKLE
Latex crinkle coatings are designed to channel away liquids to allow a better handling in heavy duty wet and dirty conditions. The thicker coating provides additional protection for cut and puncture applications.

ROUGH
Rough finishes provide an economical choice of enhancing abrasion and cut protection while providing good protection in wet and dry applications.

SANDY
Premium Sandy finishes enhance abrasion and cut protection while providing excellent protection in wet and rugged applications.

RAISED DIAMOND
Diamond patterns are commonly used on unsupported products which provide added grip on wet or dry surfaces. Diamond patterns are more commonly used in food handling and processing applications.

HONEYCOMB
Honeycomb patterns are commonly used on unsupported products which provide added grip on wet or dry surfaces. Honeycomb patterns are more commonly used in janitorial, sanitation and general maintenance applications.