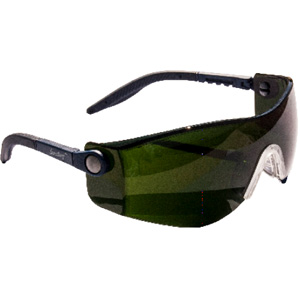 Atlas™
Rimless Safety Glasses with Navy Blue Ratcheting Temples, IR Filter Shade 5.0 Lens and Anti-Scratch / Anti-Fog Coating
250-56-0015-EN
SIZES: OS
Packed: 144/Case
Country of Origin: Taiwan
Lens:

IR Filter

Lens Coating:

Anti-Scratch / Anti-Fog

Frame Fit:

Universal
Lens: IR Filter
IR Filter: IR lenses protect your eyes from UV rays and flash burns, while also offering a high level of impact-protection from flying objects associated with cutting, brazing and torch soldering. These safety glasses for welding DO NOT have the same level of protection as a helmet and should NOT be worn instead of a welding mask when arc welding.

View All IR Filter
Lens Coating: Anti-Scratch / Anti-Fog
Anti-Scratch: Anti-Scratch is a hardcoat treatment that toughens lens surface for a longer product life with fewer scratches.
Anti-Fog: Anti-Fog is a surface coating that reduces fogging, maintaining clear vision. Ideal for food plants or cleaning operations with high-humidity environments.

View All Anti-Scratch
View All Anti-Fog
Frame Fit: Universal
Universal: Designed to adapt to the average face size, including styles with adjustable elements to create a custom fit.

View All Universal
Product Description
Eye protection with built-in sideshields.
Features
Lens design maximizes view, providing user comfort and safety
Polycarbonate lens with built-in sideshields maximize peripheral protection
Ratchet temples with adjustable length to provide a secure, comfortable fit
Molded nose bridge design to fit the vast majority of users
6 Base curve lens
Related Product Downloads
Rimless Safety Glasses
Welder's Lenses Shade 5 Adjustable Length And Angle Ratchet Temples
Rubber Nose Bridge
Rediscover Bouton® Optical. Nearly 40 years ago HL Bouton Co. Inc began producing eyewear for industrial workers with one thing in mind…give the workers safety glasses that they want to wear. Currently Bouton® Optical has nearly 50 distinctive shapes of safety eyewear - and some are even adjustable. Bouton® Optical also offers you the right lenses for your working environment. Anti-Scratch and Anti-Fog options are standard on many of their glasses and special treatments are available to extend the life of your eyewear while helping you see better by filtering light and reducing glare.
View Products