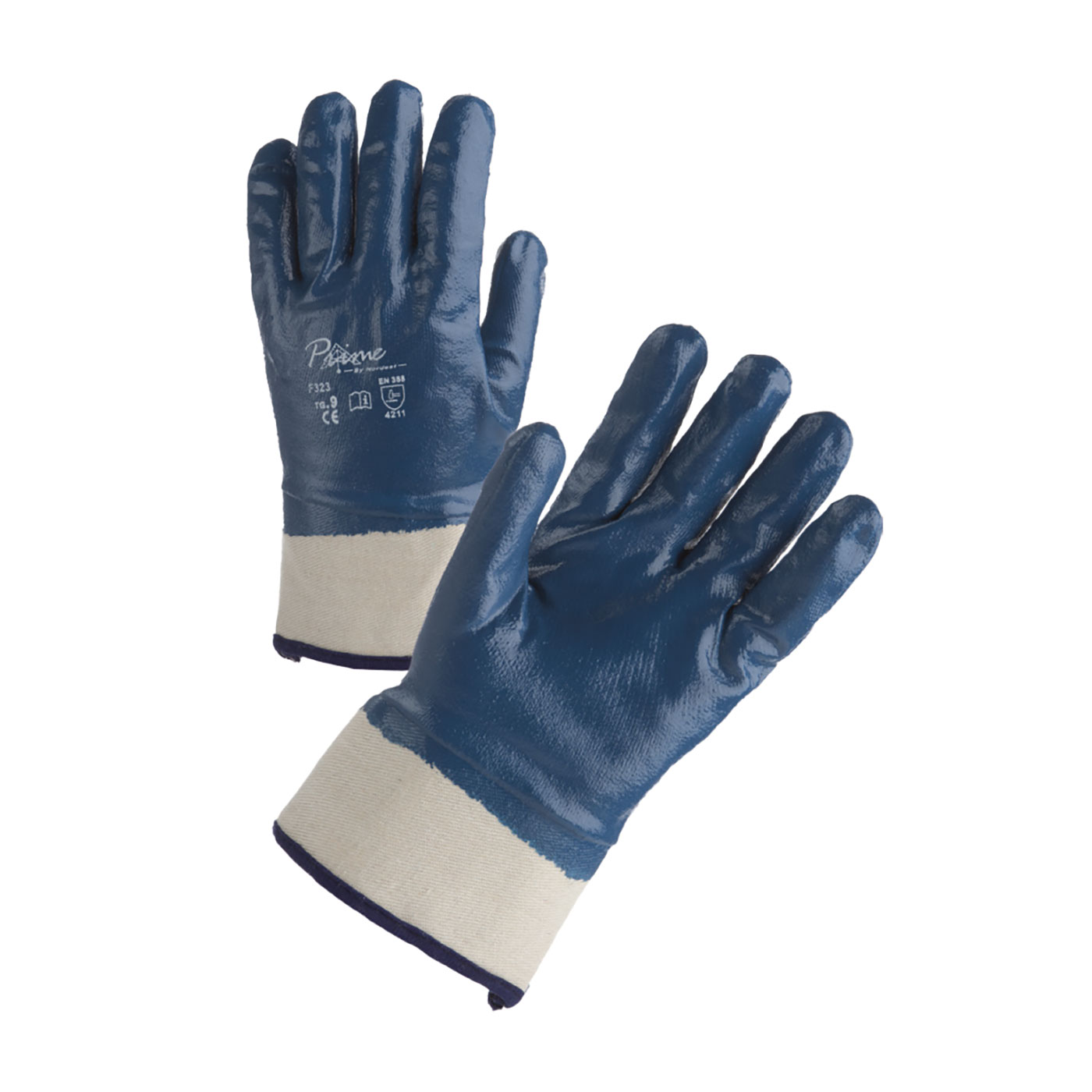 G-Tek®
Nitrile Coated Glove with Jersey Liner and Smooth Finis on Full Hand - Rubberized Safety Cuff
56-F323-EN
Liner Material: Cotton / Jersey
Cotton is a natural fiber that offers comfort at a low price point.Cotton jersey construction keeps hands cool and protected.
View All Cotton
View All Jersey
Coating: Nitrile
Excellent dry grip, thicker coating offers superior resistance to snag, cut, puncture and abrasion. When enhanced by a foam coating, it offers very good grip in chemicals including oils, petrochemicals, fuels and most acids.
View All Nitrile
Grip: Smooth
Available in a variety of polymers such as latex, nitrile, PVC, Neoprene and Polyurethane. Smooth coatings provide the wearer an excellent dry grip. Liquids will not absorb into the coating which will keep the hands dry.
View All Smooth
Product Description
Ideal for general handling, assembly, fabrication, parts handling and inspection.
Features
Cotton jersey liner is soft, warm, flexible and stretchy
Smooth nitrile coating provides excellent dry grip and will not absorb liquids into the coating
Rubberized fabric safety cuff helps protect wrist, allows for fast removal, and water resistance
Cut&Sewn white cotton shell
Heavy-Duty Blue NBR coating Fully Coated
Smooth Grip
With Safety Cuff
EN388 Results: 4111XX
EN 388 2016 Results:Abrasion: 4Cut (Coupe Test): 1Tear: 1Puncture: 1Cut (TDM-100 Test): XImpact Protection: X
EN 388 is a European Standard. Cut Level is determined by the number of cycles it takes a spinning circular blade, that is pulled across the material under a constant weight of 500 grams, to cut the fabric. As the number of cycles increase, so does the glove's ratings. Click here for more information about the EN 388 2016 standard.