Handle the Heat
PIP produces heat resistant gloves that are ideal for welding or the handling of hot, heavy material. Welder's gloves are made of all leather split cowhide construction, fully welted and have a one-piece back to extend wear. Other styles included Dupont™ Kevlar® material that is very tough and resistant to burning or charring.
LEARN MORE ABOUT HAND PROTECTION
SHOWING 1-1 OF 1 ITEMS
1 of 1
FILTERS:
CLEAR ALL

Cotton Lining

Cut-and-Sewn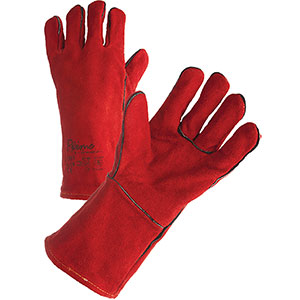 EN 388 2016 Results:
3132XX
Abrasion: 3
Cut (Coupe Test): 1
Tear: 3
Puncture: 2
Cut (TDM-100 Test): X
Impact Protection: X
EN 388 is a European Standard. Cut Level is determined by the number of cycles it takes a spinning circular blade, that is pulled across the material under a constant weight of 500 grams, to cut the fabric. As the number of cycles increase, so does the glove's ratings. Click here for more information about the EN 388 2016 standard.
SHOWING 1-1 OF 1 ITEMS
1 of 1