Global Leader in Hand Protection
As a licensee of both Dyneema® and DuPont® advanced fibers, our gloves and sleeves are made using proprietary engineered yarn blends and coatings. The result - hand and arm protection that is innovative and performance driven. Meeting todays tough ANSI and EN standards, we develop and market seamless knit, coated and uncoated, polymer, supported and unsupported as well as cut and sewn gloves in both leather and advanced composite materials.
LEARN MORE ABOUT HAND PROTECTION
SHOWING 1-1 OF 1 ITEMS
1 of 1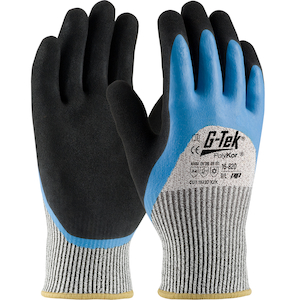 EN 388 2016 Results:
3X43CX
Abrasion: 3
Cut (Coupe Test): X
Tear: 4
Puncture: 3
Cut (TDM-100 Test): C
Impact Protection: X
EN 388 is a European Standard. Cut Level is determined by the number of cycles it takes a spinning circular blade, that is pulled across the material under a constant weight of 500 grams, to cut the fabric. As the number of cycles increase, so does the glove's ratings. Click here for more information about the EN 388 2016 standard.
SHOWING 1-1 OF 1 ITEMS
1 of 1