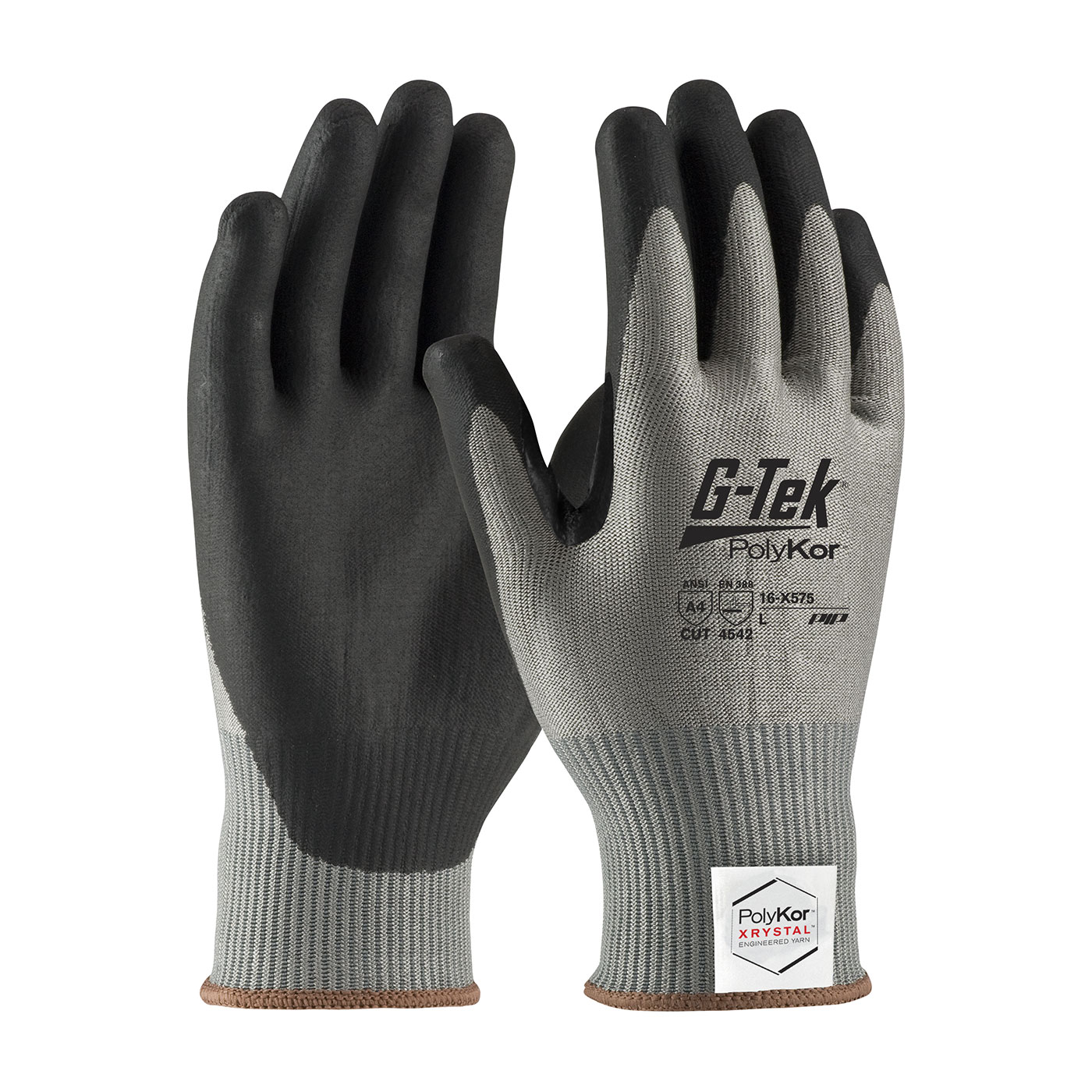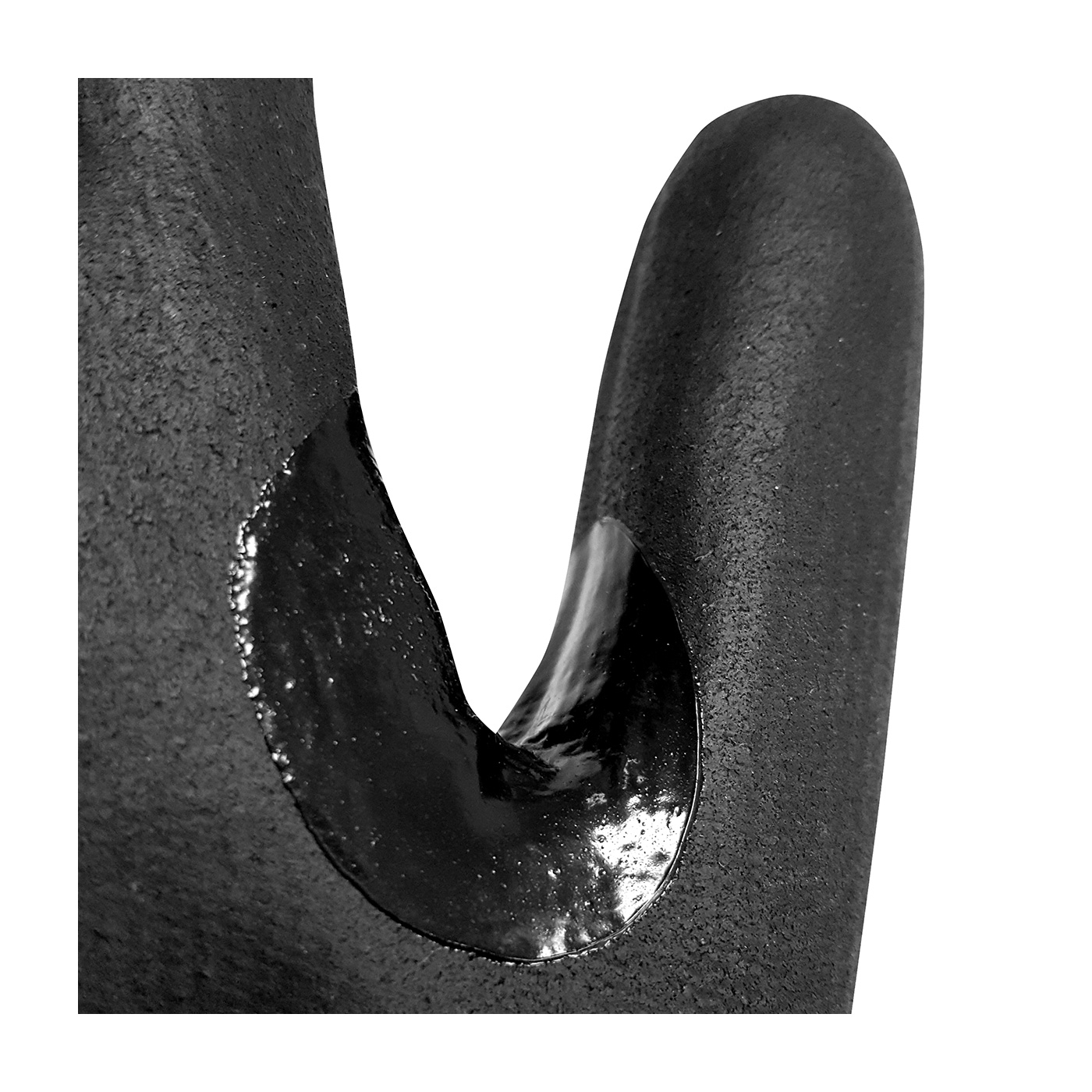 G-Tek® PolyKor® Xrystal®
Seamless Knit PolyKor® Xrystal® Blended Glove with NeoFoam® Coated Palm & Fingers and Reinforced Thumb Crotch - Touchscreen Compatible
16-X575-EN
Packed: 6 Dozen/Case
Country of Origin: China
Liner Material:

PolyKor Xrystal

Coating:

Neofoam

Gauge:

13
REQUEST A SAMPLE
Liner Material: PolyKor Xrystal
G-Tek® PolyKor™ Xrystal™ is an engineered yarn that represents the next generation in maximum cut protection and comfort. PolyKor™ fiber is combined with naturally hardened crystallized minerals, resulting in a super tough, durable, cut resistant fiber that is at the peak of performance.
View All PolyKor Xrystal
Coating: Neofoam
Neofoam offers great abrasion resistance and outstanding wet/dry grip. It is highly flexible and tough, but still offers good breathability.
View All Neofoam
Gauge: 13
The number of rows of stitches per inch. A higher gauge means less bulk and greater dexterity.
View All 13 Gauge
Product Description
Used for electronics, glass cutting, sheet metal handling, parts assembly, sharp small parts handling, construction and other general duty applications.
Features
Seamless construction offers increased comfort and breathability
PolyKor® Xrystal® shell is lightweight and provides excellent dexterity, tactile sensitivity and cut resistance
NeoFoam® coated palm and fingertips offers great abrasion resistance and outstanding wet/dry grip
Touchscreen compatible to allow the user to operate a touch screen phone or device without removing gloves
Knit Wrist helps prevent dirt and debris from entering the glove
Reinforced thumb crotch for extended glove life, enhanced comfort, increased abrasion resistance and added durability in a high-wear area
Color coded hems for easy size identification
Washable, resistant to chemicals, water, and ultraviolet light
Compliant with FDA Part 177 - Indirect food activities: Polymers. Subpart C - Substances for use only as components of articles intended for repeated use. Sec. 177.2600
Complies with FDA food handling requirements 21 CFR, Part 177
PolyKor Xrystal Blend Seamless Knit Shell
13 Gauge
Gray
Black NeoFoam Coated Grip
Touchscreen Compatible
Reinforced Thumb Crotch
EN388 Results: 4542DX
EN 388 2016 Results:Abrasion: 4Cut (Coupe Test): 5Tear: 4Puncture: 2Cut (TDM-100 Test): DImpact Protection: X
EN 388 is a European Standard. Cut Level is determined by the number of cycles it takes a spinning circular blade, that is pulled across the material under a constant weight of 500 grams, to cut the fabric. As the number of cycles increase, so does the glove's ratings. Click here for more information about the EN 388 2016 standard.
The G-Tek® brand is applied to seamless knit coated gloves used for various cut protection and general purpose applications for various industrial, construction, and MRO applications. As a comprehensive line of hand protection, G-Tek® encompasses several technology platforms to meet the various needs of the market. Each cut resistant glove is tested to both ANSI and EN standards, and test scores are readily available on each product's webpage.
View Products