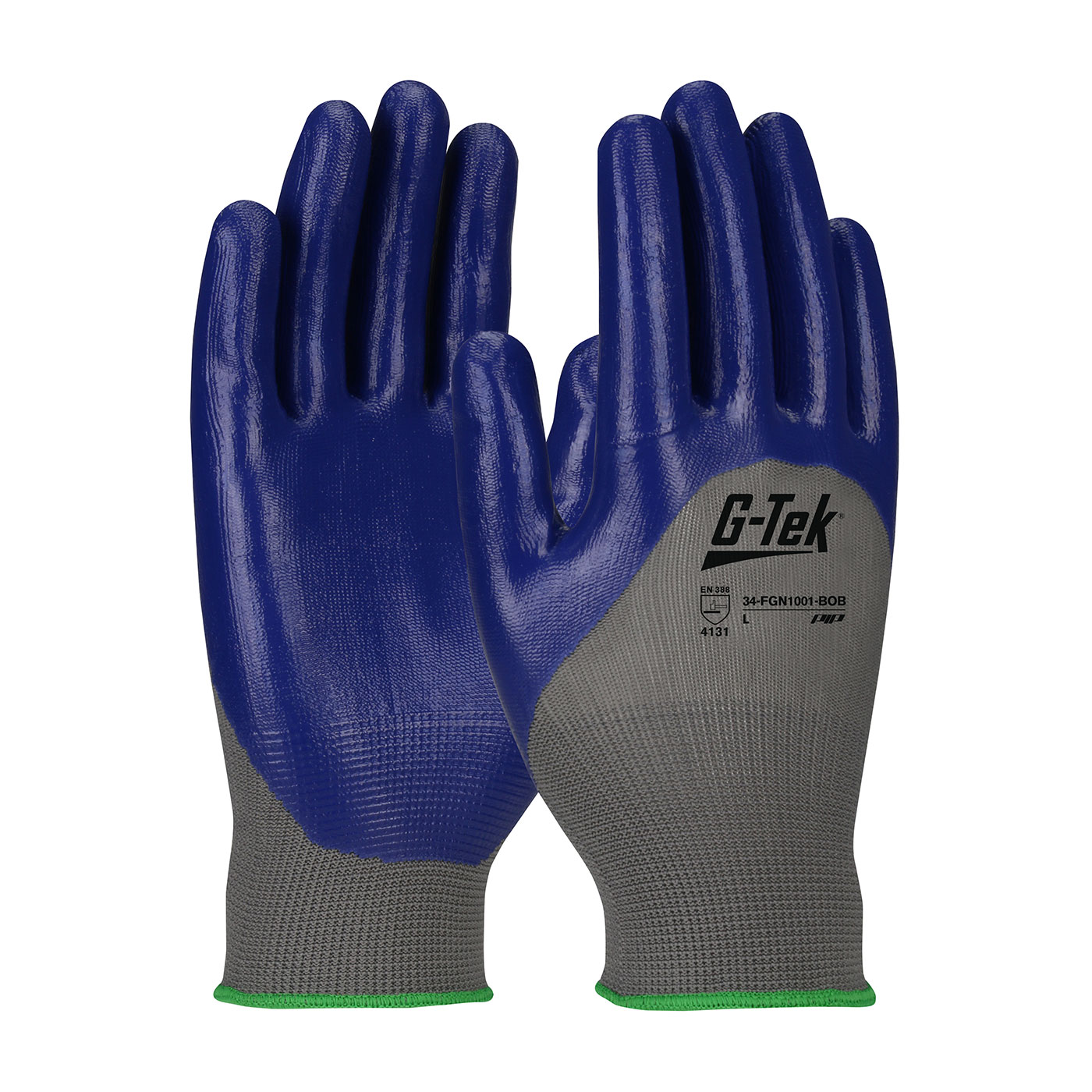 G-Tek®
Seamless Knit Nylon Glove with Extra Thick Nitrile Coated Smooth Grip on Palm, Fingers & Knuckles
34-FGN1001/BOB-EN
Coating: Nitrile
Excellent dry grip, thicker coating offers superior resistance to snag, cut, puncture and abrasion. When enhanced by a foam coating, it offers very good grip in chemicals including oils, petrochemicals, fuels and most acids.
View All Nitrile
Grip: Smooth
Available in a variety of polymers such as latex, nitrile, PVC, Neoprene and Polyurethane. Smooth coatings provide the wearer an excellent dry grip. Liquids will not absorb into the coating which will keep the hands dry.
View All Smooth
Gauge: 13
The number of rows of stitches per inch. A higher gauge means less bulk and greater dexterity.
View All 13 Gauge
Product Description
Ideal for assembly work, construction, inspection, material handling, refuse handling, landscaping and gardening.
Features
Seamless knit nylon shell offers increased comfort, finger dexterity and breathability
Extra thick solid dipped nitrile coated palm, fingers and knuckles offer increased abrasion resistance and provide excellent dry grip and will not absorb liquids into the coating
Knit Wrist helps prevent dirt and debris from entering the glove
Gray Seamless knit polyester shell
blue nitrile coating 3/4 Dip Coating
Smooth Grip
Knit Wrist
Lighweight
EN388 Results: 4131XX
EN 388 2016 Results:Abrasion: 4Cut (Coupe Test): 1Tear: 3Puncture: 1Cut (TDM-100 Test): XImpact Protection: X
EN 388 is a European Standard. Cut Level is determined by the number of cycles it takes a spinning circular blade, that is pulled across the material under a constant weight of 500 grams, to cut the fabric. As the number of cycles increase, so does the glove's ratings. Click here for more information about the EN 388 2016 standard.
The G-Tek® brand is applied to seamless knit coated gloves used for various cut protection and general purpose applications for various industrial, construction, and MRO applications. As a comprehensive line of hand protection, G-Tek® encompasses several technology platforms to meet the various needs of the market. Each cut resistant glove is tested to both ANSI and EN standards, and test scores are readily available on each product's webpage.
View Products